The world is increasingly evolving and becoming connected globally. Ever since the inception of the internet, people and businesses have shared and stored their data online. This only means one thing, we have more to lose than ever before. It does not matter what type of business you operate, but your data and protection are vital for your business operations. Before you think that you do not need a data backup or a recovery plan, we would like to clarify a few points that are essential for your business survival:
1. People make mistakes
2. Software or hardware failure may result in the failure of primary data.
3. accidental deletion of data and malicious ransomware attacks may halt your business.
Hence several things are out of our control, and it is essential to have a recovery plan to avoid losing critical business data.
What You Can Do to Save Your Business from Losing Critical Data
1. Have a Disaster Recovery Plan (DR)
A disaster recovery plan is a set of rules and SOPs (standard operating procedure) on a formal document created by the organization. It entails all the details on tackling situations like cyber-attacks, power outages, any act of God, and other disruptive and unexpected events. Having a DR is vital for your business as it ensures that your business operations resume back to normal after an accident has caused an interruption. Without a DR, your company can suffer heavy financial losses, loss of reputation, and unhappy customers. A DR can help in the following ways.
Control damage and financial loss
Your employees become trained to tackle unexpected cyber security situations.
There is a streamlined restoration process and the guidelines to restore and bring business on track.
2. Backup Validation
Backup validation is an integral part of the Disaster Recovery Plan, which allows you to test your backup protocols' consistency and recoverability.
Every data block retrieved from the backup is given a checksum via validation. The sole exception is file-level backups stored in cloud storage, which must be validated. The consistency of the metadata recorded in the backup is checked to ensure validity.
Validation is a time-consuming procedure, even for a tiny incremental or differential backup. This is because the operation verifies the data physically present in the backup and all of the information that can be recovered by selecting the backup. This necessitates access to backups that have already been produced. While successful validation indicates a high likelihood of recovery, it does not examine all elements that affect the recovery process.
It is vital to test backups and restore processes to check if they work. There is a chance that some backup archives are corrupt or damaged, which will hamper the restoration process. You must test the restore process; it helps learn about data recovery from backups should there be a disaster. The testing can also help you learn about real-life risks without losing the actual data.
3. Use Air-Gapped Backups to Isolate the data
An air gapping technique is one of the most popular backup strategies. At any given time, all your business' critical data shall have a copy stored offline, which will be disconnected and inaccessible via the internet. Air gapping isolates data from unsecured networks or production environments, and they can be stored off-site.
4. In-house Data Recovery Solutions
Your business will greatly benefit from a data backup solution all in-house. It can be a physical server on or off-site. If data backups are on the cloud (online backup), they will take an ample amount of time to get restored, costing you time and money. Some IT companies deploy 10Gb pipe to hosts allowing them great flexibility, and they are never limited to their network. They are cost-effective for small size businesses. The data is also accessible without the internet, which is excellent as it allows access to data 24/7.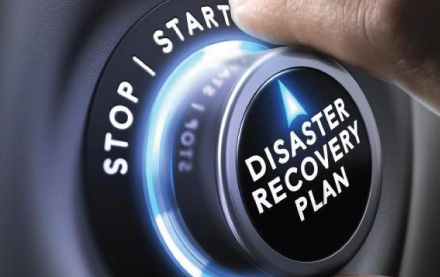 Choose your IT management partner carefully.
You must have an excellent IT management partner who can be available for your business 24/7. These IT partners must have the proper skill set, which is an essential first step to ensure your data remains safe and uncompromised. The responsibility to protect crucial business data is vast, and you must work with companies that provide you with excellent customer support. You never know when your data is attacked or compromised.
If you want to ensure your company has the necessary IT infrastructure in place to continue operating during and after a disaster, it's crucial to partner with a reputable and reliable IT provider. Protected Harbor ensures your data is backed up and is continuously being monitored to ensure its integrity so that we'd be able to restore your data should it ever get lost or corrupted. By working with Protected Harbor, you can have peace of mind knowing that your business is protected, no matter what happens.
Above all, it is vital to have a backup plan. The strategies outlined in this article will help you to achieve that. Armed with the knowledge of how to recover your business after a disaster, you can be confident that your investors and employees will thank you. With Protected Harbor by your side, you will be better prepared for any eventuality, and in this case, that's going to count for a lot. Contact us now.